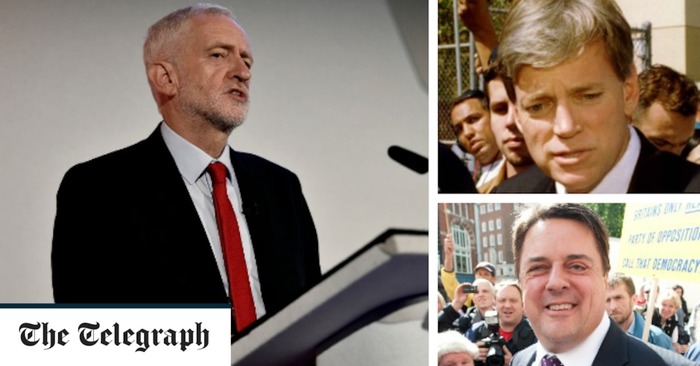 Sven Longshanks hosts a solo episode looking at 'Far Right' support for Jeremy Corbyn's anti-Zionist comments and preparations for the Notting Hill bank holiday stab-fest.
The Labour anti-Semitism scandal is the gift that just keeps on giving this year. The latest revelation is that Corbyn shared a platform with Palestinian groups and gave a speech where he claimed that British Zionists had no understanding of irony and no understanding of actual history. Nick Griffin was quick to applaud him for this and that alone was enough to cause a public investigation into him to be started.
The fuss these Jewish advocacy groups make about Corbyn you would think he had literally been building gas chambers, not making mild criticism of Zionism.

Corbyn also said there is a 'stranglehold of elite power and billionaire domination over large parts of our media' which was cheered on by David Duke, who confirmed this fact. The more the Jews continue to attack him like this, the more obvious it becomes to the British people that it is them who have this 'stranglehold'.
Luciana Berger has popped up to complain that she feels unwelcome in HER own party and Mike Gapes MP has resigned, calling Corbyn 'a racist and an anti-Semite'.
Anti-Semitism just means criticism of Jews and Labour Party members are being given no choice but to accept that the Jews really do have a stranglehold on British politics and the media. They are being given a crash course in Jewish power and Zionist subversion, all thanks to the arrogance of organised Jewry.
People are preparing for Notting Hill carnival by boarding all their houses up like a hurricane is about to hit and 6,000 police will be there on the day, along with a specially formed 'violent crime task force'. This celebration of Caribbean culture resulted in 300 arrests last year, 58 for offensive weapons, 14 for sexual assault and 17 for assaults on police. 28 officers were injured and there were 3 acid attack victims. The revelers urinate and defecate all along the route and any vehicles parked on the road are smashed to pieces. It really does sound just like life in Jamaica and London's Blacks appear to be very proud of this achievement. At the one held in Manchester two weeks back 10 people got shot, adding that extra air of authenticity to proceedings. Notting Hill Carnival will have to work really hard to beat that one for being closest to a genuine Caribbean experience.
Presented by Sven Longshanks
Aryan Britannia: Jeremy Corbyn Claims Zionists Dont Understand Irony – AB 082718
Download
Aryan Britannia will be back on Radio Aryan next Monday at 3pm EDT/8pm BST
See the daily radio schedule for more alt-right audio available for download
Join the chatroom, visit the bootleg archive and follow the feed
Artwork by Boatsinker
We can accept donations with this Bitcoin Wallet:
1DUSX2dez4DJHcixzK7cwMvg1e8eYdssDi
Radio Aryan on Gab
Online Radiobox app
Radio Aryan smartphone app
Live Online Radio
Player.FM

128k live stream
48k live stream
Zeno Radio Relay