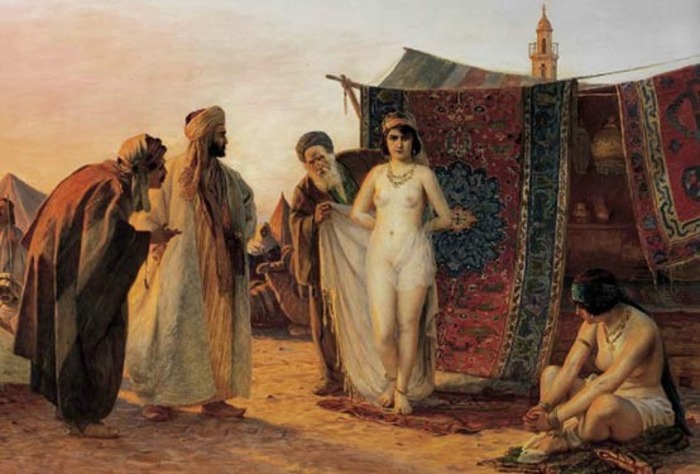 Now that reporting restrictions are lifted Sven Longshanks reports on the Moslem sex slavery trial in Huddersfield and the historical relationship between Islam and the abduction and slavery of White women and children.
Huddersfield is just the latest in a long string of non-White criminal gangs being prosecuted for enslaving White children and forcing them to have sex with some really revolting people. This is being treated like it is some kind of aberration and not to be expected, but Moslems have done this to White females in recent history. At least 3 million Whites were enslaved by the Ottomans and Barbary pirates and this was not ended until the beginning of the 20th century.
Slavery is justified in the Koran and modern Islamic scholars even claim that it is preferable to steal a White child as a slave as it keeps prostitution off the streets. White slaves used to be worth 25 times as much as a Black girl and 15 times as much as a Syrian girl to a Turkman, but now that they are being sold in our cities for the price of a bag of heroin.
Moslem slavers used to have to go on daring raids in ships to snatch our women from the sea-side villages, but thanks to the traitors in power we now have similar types among us who target vulnerable girls as young as 11-years-old, who they bribe with chips and kebabs before getting them hooked on heroin and unable to say no to having sex with all their disgusting uncles, cousins and friends.
Although there is clearly a link between Islam and White slavery, the ringleader of this most recent grooming gang was a Sikh. It is also not just the Pakistanis either, in Bristol it was a gang of Somalis doing the grooming and raping. White girls are highly prized trophies among all the non-White races regardless of religion and until we are brave enough to admit this and our authorities do something to prevent it instead of covering it up, we will continue to hear these horrific tales of our young girls and children being enslaved by them.
This week's music:
26 Hate – Violence
Presented by Sven Longshanks
Aryan Britannia: White Slaves and Moslem Masters – AB 102218
Download
Aryan Britannia will be back on Radio Aryan next Monday at 3pm EDT/8pm BST
See the daily radio schedule for more alt-right audio available for download
Join the chatroom, visit the bootleg archive and follow the
feed
We can accept donations with this Bitcoin Wallet:
1DUSX2dez4DJHcixzK7cwMvg1e8eYdssDi
Radio Aryan on Gab
Online Radiobox app
Radio Aryan smartphone app
Live Online Radio
Player.FM

128k live stream
48k live stream
Subscribe to Radio Aryan by Email