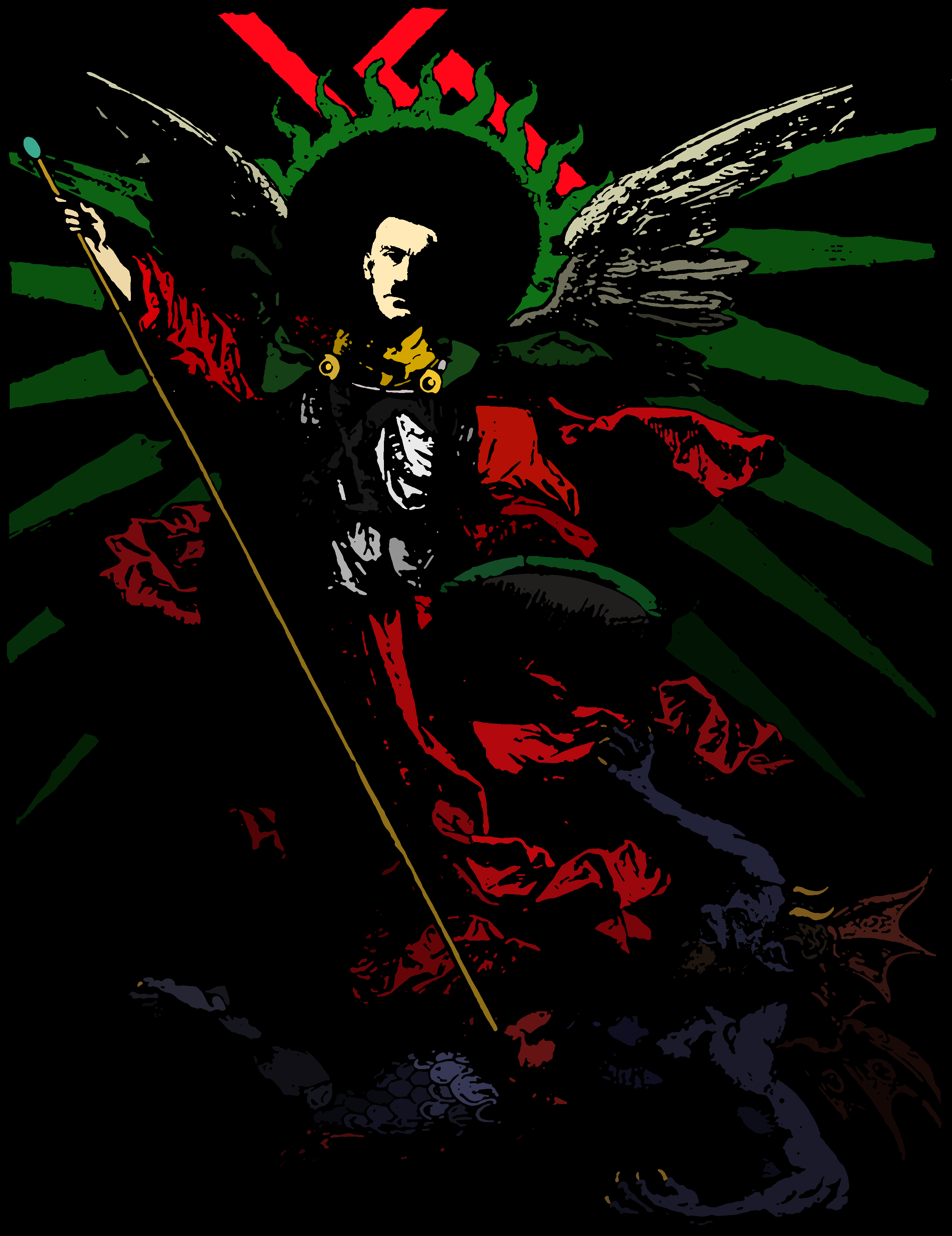 Use of music does not imply endorsement by the musicians of our views, or us of theirs.
Blut Adler hosts the first Audio Insurgency of the New Year with 14 new truth-seeking tunes from all around the White world, featuring darksynth to folk and classical, with plenty of black metal in between.
French artist Hubrid starts the session with a church organ heavy remix of Antisun with all the classic darksynth motifs making an appearance, followed by Tapecult from Russia with more horror samples and a funky fast-paced bassline.
Roborg from Prague next, building up the tempo and dropping it again with a modulating synth riff and killer bass sounds, plenty going on in this track.
Amalec's on an experimental vibe again, resurrecting a classic Bob Matthews speech to a dubstep backing track, while Waker keeps the speed frantic but eases back on the harsher synth noises.
Europaweite Aussichten bring respite from the audio onslaught with windchime synths and ambient beats, before Mild Peril closes the synth section with a classic crusader tune from the middle ages.
Akvult swiftly change gears and switch to hardcore beats and scream style vocals, leading into the double kick drums and turbo riffs of NSBM outfit Ordensburg.
Norrhem add keyboards to the turbo-charged guitars for a super tight thrashout with a great melody that sticks in the head.
Severe Storm go for a slow doom dancing build-up before breaking into effects laden soloes, while FieL get the Spanish guitar out for their anthemic 'Nationaler Sozialist'.
Ukraine's Chysta Krynytsya add harpsichord and classical influences with their progressive rock offering and then we are back into the synths again, for a Christmas themed pop song from Heartbeat Hero.
Faeros extends the seasonal theme with a piano recital and synth ballad to the first snow, before three sisters from Norway play us out with an ambient classical piece featuring strings, woodwind, piano and the oboe.
Hubrid, Amalec , Waker, Mild Peril,
Roborg,
Tapecult,
Heartbeat Hero, Faeros and Salrosen are at Soundcloud
Akvlt and Norrhem are at Youtube
Ordensburg are at Hammerbund
Severe Storm are at Lower Silesian Stronghold
FieL are at Hammerstorm
01:34 Hubrid Remix – Antisun – Dealing with the Devil - NEW




04:28 Tapecult - Terror Twins - NEW




08:21 Roborg - Nec Minus Ultra - NEW




12:53 Amalec – Future or Ruin - NEW




16:18 Waker - Tension in the Courtroom - NEW




19:11 Europaweite Aussichten - We Wear Your Face




22:52 Mild Peril – Paladin - NEW




27:00 Akvlt - Alaf Sal Fena - NEW




31:13 Ordensburg – Waffenbruder - NEW




37:32 Norrhem – Uhrattu - NEW




44:44 Severe Storm - Chambers Of Salvation - NEW




50:16 FieL - Nationaler Sozialist - NEW




54:56 Чиста Криниця - Доки Падала Краплина




01:14 HeartBeat Hero - Synthwave Christmas - NEW




04:13 Faeros - First Snow - NEW




07:47 Salrosen – Fianna – NEW
Presented by Blut Adler
Blut Adler: Audio Insurgency 85 – AAI 010210
Download
The Audio Insurgency will be back on Radio Albion next Thursday with Sven Longshanks and Halindir.
See the daily radio schedule for more pro-White audio available for download
Join the chatroom and follow the feed
Artwork by Blut Adler
We can accept donations sent to this Bitcoin wallet number:
1L8orB31d6Bu1fymUgcWN3ByoedL6bNaM2
Radio Albion on Gab
Subscribe in a reader
Radio Albion Full Screen Player Low-Quality
Radio Albion Full Screen Player Hi-Quality
Radio Albion Android Player Low-Quality
Radio Albion Android Player Hi-Quality