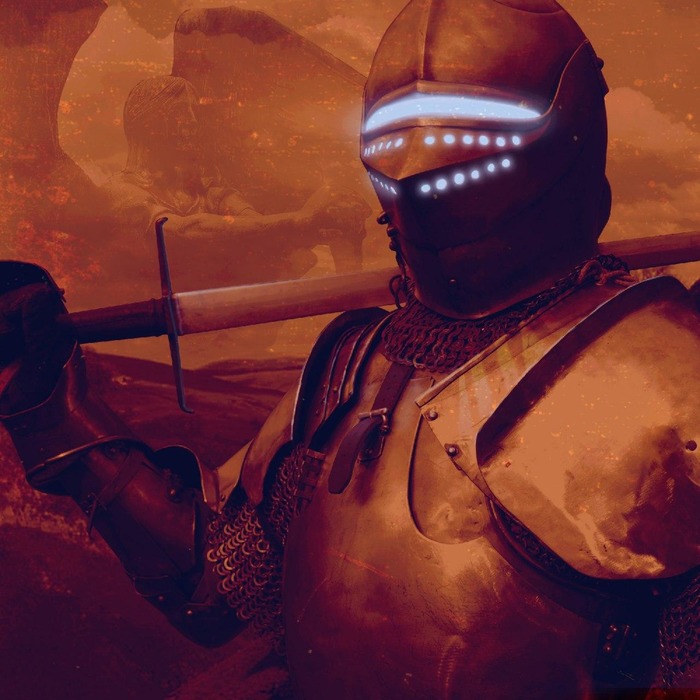 Use of music does not imply endorsement by the musicians of our views, or us of theirs.
Plenty of Slavic folk metal on tonight's episode with Belarus taking the prize, alongside dream-folk, martial industrial, cyberpunk, black metal, synthwave, punk and ballads from the pro-White and passive-White communities.
Halindir warms things up with classical themes and a manic theremin solo, which Twenty One adds to with cyber-xylophone and a familiar voice sample in a remix of one of his earlier tunes.
A full orchestra with military drums takes over for Arditi's offering, before the machine beats and vast expansive sound of Holon envelops us, with more of a funky feel than usual.
Waker wakes us up with some skippety-boo drum and bass and an unexpected guitar solo makes it's way in from the second half of the podcast.
Traversing the Divide starts with modern flange effects and shows a prog rock influence with the soloes and time changes, before Cyberthing brings darkrsynth riffs and a bouncing bassline, getting us ready for HeartBeatHero to show off his Dutch roots, jumping hardstyle.
Erdling open the metal section with a gothic influence and understated keyboards, followed by the bagpipes and disco beats folk rock of Gotteshorn.
Alkonost turn rock into metal and pipes into guitars through electronic wizardry, before adding the unmistakable vocal harmonies of their singer.
Vapor Heimis open the throttle for the first of the black metal adding a cavernous sound to the kick drums and growls, while their kinsmen Drygva keep up the high standards with ultra-tight riffing, super fast drumming, plenty of breakdowns and even what sounds like a saxophone in one part.
Wolfnacht follow a similar symphonic arrangement with their music, but manage to get the guitars sounding like a string section in parts.
Whitelaw are back with a new album and finish the metal section with a punk anthem guaranteed to get you singing along with the chorus.
Flatlander finish with an acoustic version of the classic Skrewdriver track 'The Lion's Roar'.
Halindir, Holon,
Cyberthing and D-Noise,
Waker & HeartBearHero are at Soundcloud
Traversing The Divide, Дрыгва,
Twenty-One, Arditi, Erdling, Gotteshorn, Alkonost & Flatlander
are at Youtube
Wolfnacht are at IG Farben
Whitelaw are at Midgard Records
Vapor Hiemis are at Hammerstorm
01:05 Halindir - Midnight Gorgonzola - NEW




06:04 Twenty-One - Twelve (Tribute) - NEW




11:51 Arditi - To the Folk - NEW




17:10 Holon - Remain Hopeful - NEW




22:01 Waker – 624 - NEW




24:52 Traversing The Divide – Float - NEW




29:51 Cyberthing and D-Noise - Zero Strike - NEW




33:56 HeartBearHero - Jumping King – NEW




37:51 Erdling - Wölfe der Nacht (feat. Chris Pohl)




41:55 Gotteshorn - Die Königin - NEW




46:08 Alkonost - Там, где живут ветра - NEW




51:56 Vapor Hiemis - Karani




57:36 Дрыгва – Вогнепаклоннік - NEW




03:48 Wolfnacht - Zur Wotanseiche - NEW




08:51 Whitelaw - White Whores - NEW




12:51 Flatlander - The Lion's Roar – NEW
Presented by Sven Longshanks
Sven Longshanks: Audio Insurgency 103 – AAI 050720
Download
The Audio Insurgency will be back on Radio Albion next Thursday at 2.30pm EDT/ 7.30pm GMT.
See the daily radio schedule for more pro-White audio available for download
Join the chatroom and follow the feed
Artwork by Gideon
We can accept donations sent to this Bitcoin wallet number:
1L8orB31d6Bu1fymUgcWN3ByoedL6bNaM2
Radio Albion on Gab
Subscribe in a reader
Radio Albion Full Screen Player Low-Quality
Radio Albion Full Screen Player Hi-Quality
Radio Albion Android Player Low-Quality
Radio Albion Android Player Hi-Quality