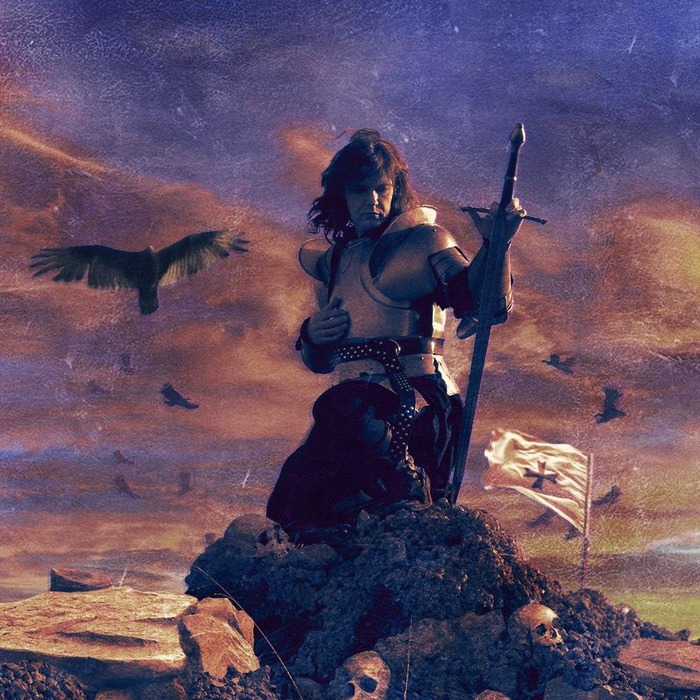 Use of music does not imply endorsement by the musicians of our views, or us of theirs.
Four extra black metal tunes tonight on the Audio Insurgency, plus punk, hardcore, synthwave and darksynth from the pro-White and passive-White communities.
Forerunnerx starts with a professional sounding synthwave remix featuring catchy guitar soloes and saxophones, before Traversing the Divide comes in with a quirky rhythm blending disco flashes with prog rock keyboards.
Ordo de Ignis stays with the eighties feel mixing punk vibes with gothic refrains and HeartBeatHero brings us back to the current year with a mid-paced crystal clear production with un-cluttered melodies.
Triptidon opens with a kick drum soon to hit double time, accompanied by rollercoaster darksynth chord progressions flying at you from all angles, while Elessar keeps it hard and fast with sharp synth stabs slicing in and out of the undulating bass line.
Lazerpunk round off the electronica section with female chants and industrial disco beats, building to a brass crescendo with an exotic flavour to it.
Bakers Dozen take us from the warehouse to the working men's club for a catchy adrenaline-laced punk number with great guitar work, while Mind Terrorist are going for more of an American punk style with a hint of hardcore.
Ethos will get you singing along and nodding your head to their chugging riffs and anthemic chorus, before the machine gun guitars of Ukrainian band Krepatura take over to get us ready for the black metal.
Ruadh continues from where we last left him with the arrangements getting more complex, with extra instruments and vocal layers being added to give a distinctly Celtic feel to the melodies, this should be a monster of an album if the rest is like this.
Winterfylleth begin with frantic riffing and bass harmonies before the lead soloes take over for a truly cavernous sound half way through, that leads to a 'Rime of the Ancient Mariner' style acoustic section and back out again.
Sacrficia end the atmospheric selection with a brass section and furious violins accompanying the jack-hammer drums and chainsaw guitars, while Svartskalder close with a mediaeval sounding acoustic-and-accordions version of their black metal classic 'Legions of Endless Nothingness'.
Forerunnerx, Ordo de Ignis,
Triptidon,
HeartBeatHero and CMPLX & Elessar are at Soundcloud
Traversing The Divide, Mind Terrorist,
Lazerpunk, Ruadh, Winterfylleth & Sacrificia
are at Youtube
Bakers Dozen are at Askania Productions
Ethos are at Frontmusik
Krepatura are at RAC-Forum
Svartskaldr are at Hammerstorm
01:10 Forerunnerx – (remix) – The Midnight – River of Darkness - NEW




06:45 Traversing The Divide - Memories of the Past - NEW




12:31 Ordo de Ignis - Degeneracy Remix - NEW




16:31 HeartBeatHero and CMPLX – Rewind the Neon - NEW




19:54 Triptidon - Judged by Fire - NEW




25:21 Elessar - Fountain of Youth - NEW




28:18 Lazerpunk – Power (Grendel remix) - NEW




34:16 Bakers Dozen - A Complaints Been Raised - NEW




38:27 Mind Terrorist - Revolt Against the Modern World - NEW




43:06 Ethos – Grablied - NEW




46:53 Krepatura - Священний Ніж – NEW




49:43 Ruadh – Embers - NEW




00:06 Winterfylleth - A Greatness Undone - NEW




08:42 Sacrificia - Palatium Oblivionis - NEW




16:35 Svartskaldr - Legions Of Endless Nothingness (Acoustic) - NEW
Presented by Sven Longshanks
Sven Longshanks: Audio Insurgency 105 - AAI 052120
Download
The Audio Insurgency will be back on Radio Albion next Thursday at 2.30pm EDT/ 7.30pm GMT.
See the daily radio schedule for more pro-White audio available for download
Join the chatroom and follow the feed
Artwork by Gideon
We can accept donations sent to this Bitcoin wallet number:
1L8orB31d6Bu1fymUgcWN3ByoedL6bNaM2
Radio Albion on Gab
Subscribe in a reader
Radio Albion Full Screen Player Low-Quality
Radio Albion Full Screen Player Hi-Quality
Radio Albion Android Player Low-Quality
Radio Albion Android Player Hi-Quality