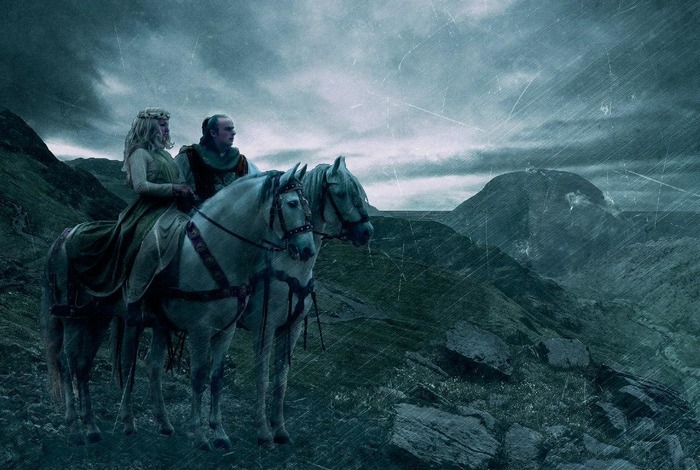 Use of music does not imply endorsement by the musicians of our views, or us of theirs.
Epic tunes aplenty in tonight's Audio Insurgency and all created by White people - covering dream folk, ambient and banjowave in the first half and symphonic black metal, folk metal and black n roll in the second.
Halindir opens with a soundscape of gargantuan proportions, guiding the listener through the mists of time with the aid of a shaman's drum and cosmic wind chimes to help pick out the correct path to follow.
Document Lambda carries the organ over into his melancholy ambient piece, adding more percussion and a sense of nostalgia, for a time when all we had to worry about was a nuclear war between two super powers.
Elessar brings us back to the present with a spooky opening and a slow marching beat accompanied by cyberpunk riffs in the background.
Synthwave Redneck reminds us there are still things to be happy about, his cheerful banjo riffs and victorious Hawkwind style synths with a eurobeat being one of them.
Fixions shatters the illusion with precision made darksynth stabs and disco riffs from hell to finish off the computer created section of the show.
Dracovallis start the second half with female soprano backed by full orchestra and chugging trad metal guitars, followed by the pounding nu-metal and sea shanties of Asenblut.
Natural Spirit bring a Slavic flavour to their folk metal and an orchestral sound that evokes memories of their kinsmen Sokyra Peruna's last album.
Chotza begin like Totenburg and end like Deep Purple, having a whale of a time along the way with each musician getting a chance to showcase his discipline.
White Egregor bring the string section back plucked as well as bowed, with female voice contrasting with the blackened male vocals and tight riffing.
Elderwind wind things down with Twin Peaks style ambient keyboards for the emotional guitar soloes to work with, taking the listener to a synesthetic world where music directs the thoughts.
Baleygr finishes with a soundtrack to a knight riding his horse off into the sunset, with a guitar strung over his back and playing the harmonica.
Halindir, Document Lambda, Synthwave Redneck, Fixions,
Elessar & Baleygr are at Soundcloud
Asenblut are at Die Weld Jagd
Natural Spirit & White Egregor are at Youtube
Elderwind are at Hammerstorm
01:15 Halindir - Land, Children & Community - NEW




10:53 Document Lambda – Aetherium Sky - NEW




17:36 Elessar – Transhuman - NEW




22:05 Synthwave Redneck - Redneck Space Jam - NEW




29:12 Fixions - Soul Resellers




33:56 Dracovallis - Through the Darkness - NEW




38:38 Asenblut - Seite An Seite - NEW




44:28 Natural Spirit - Чертоги копий и щитов - NEW




49:39 Chotzä – Tüüfuswärk – NEW




58:04 White Egregor – Легион – NEW




03:48 Elderwind - The Colder The Night




14:21 Baleygr - Gebroken Snaar
Presented by Sven Longshanks
Sven Longshanks: Audio Insurgency 106 – AAI 052820
Download
The Audio Insurgency will be back on Radio Albion next Thursday at 2.30pm EDT/ 7.30pm GMT.
See the daily radio schedule for more pro-White audio available for download
Join the chatroom and follow the feed
Artwork by Gideon
We can accept donations sent to this Bitcoin wallet number:
1L8orB31d6Bu1fymUgcWN3ByoedL6bNaM2
Radio Albion on Gab
Subscribe in a reader
Radio Albion Full Screen Player Low-Quality
Radio Albion Full Screen Player Hi-Quality
Radio Albion Android Player Low-Quality
Radio Albion Android Player Hi-Quality