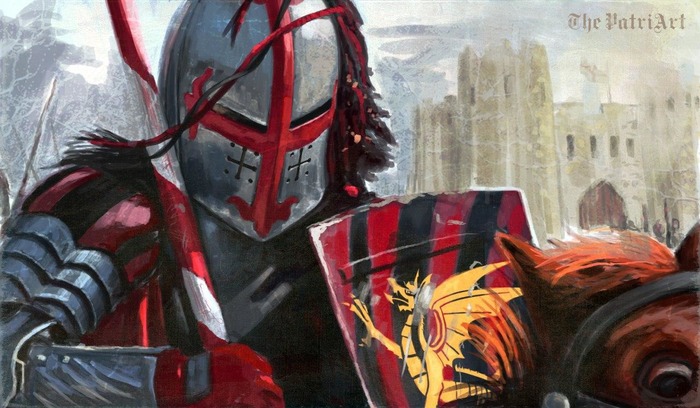 Use of music does not imply endorsement by the musicians of our views, or us of theirs.
Come and join the Audio Insurgency where we take a trip round the world sampling the very best music the White man has to offer in the company of regular host Sven Longshanks.
Russian black metal artist Planetshine begins with the title track of his electronica EP adding wistful vocals to trip hop beats and ambient organ sounds, leading us gently into the industrial cityscape of Stalowa Wola's military drums with strings and brass accompaniment.
Bass-heavy dubstep effects next blended with spooky Hiraeth samples courtesy of Amalec, before we go full eighties electro with Synthicide's tribute to Paul Hardcastle's '19'.
Cheery synthwave goodness follows from Synthwave Redneck back from saving the universe again from another intergalactic threat, while Misanthropix gets the funky bass out for a slice of retro-darksynth topped off with an unexpected guitar solo.
Lazerpunk stays with the menacing darksynth effects adding techno-beats and covid samples, leaving it to Dawn of Ashes to ease us into the guitar section with a crossover industrial track.
For Null shows his Rush influences with 2112 'Grand Finale' style voiceover and 'Xanadu' chord progressions, before breaking into psychedelic rock style singing and going full shoegaze for a collaboration with Hiraeth that suits her voice perfectly, but ends far too quickly.
A Light in the Dark cleans up the production adding keyboards and that feeling of solitude you get within a modern city, contrasting with Árstíðir lífsins whose male voice choir and orchestral black metal style conjure up images of long dead Kings and royal courts in decay.
Romuvos sing us off to battle with a Celtic chorus and Scandinavian verses, mouth-harp twanging in the background, before Nimrod brutalise our ears with turbo charged symphonic progressive death metal almost bringing us to the end of the show, which is left to Ensiferum and a midsummer influenced folk metal outing with Irish influences.
Synthwave Redneck, Synthicide, For Null, A Light in the Dark – self released
Amalec, Misanthropix , Lazerpunk, Hiraeth - Soundcloud
Dawn of Ashes - Artoffact Records
Nimrod - Youtube
Ensiferum - Metal Blade Records
Romuvos – Dangus Records
Árstíðir lífsins – Van Records
Stalowa wola – Steinklang Industries
Planetshine – Scars of Eternity Records
01:55 Planetshine - Emptiness




11:20 Stalowa wola – Powstanie - NEW




16:25 Amalec - NEW




19:59 Synthicide – c19 - NEW




25:00 Synthwave Redneck – Hyperdrive - NEW




30:23 Misanthropix – Democide - NEW




34:27 Lazerpunk – Virus – NEW




38:26 Dawn of Ashes - Scum of the Earth - NEW




41:55 For Null – War for the West - NEW




46:20 Hiraeth – Sunset Over the West – For Null Shoegaze Mix - NEW




49:21 A Light in the Dark - Fragments - NEW




54:58 Árstíðir lífsins - Er hin gullna stjarna skýjar slóðar rennr rauð




03:46 Romuvos - Skuodas (1259) - NEW




09:23 Nimrod - VIII - NEW




01:16 Ensiferum - Midsummer Magic – NEW
Presented by Sven Longshanks
Sven Longshanks: Audio Insurgency 113 – AAI 071620
Download
The Audio Insurgency will be back on Radio Albion next Thursday at 2.30pm EDT/ 7.30pm GMT.
See the daily radio schedule for more pro-White audio available for download
Join the chatroom and follow the feed
Artwork by PatriArt
We can accept donations sent to this Bitcoin wallet number:
1L8orB31d6Bu1fymUgcWN3ByoedL6bNaM2
Radio Albion on Gab
Subscribe in a reader
Radio Albion Full Screen Player Low-Quality
Radio Albion Full Screen Player Hi-Quality
Radio Albion Android Player Low-Quality
Radio Albion Android Player Hi-Quality