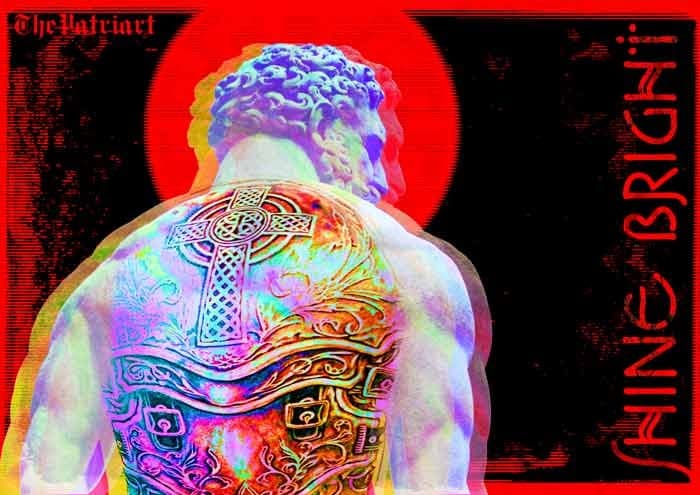 Use of music does not imply endorsement by the musicians of our views, or us of theirs
Bouncy dance music and well produced metal, both with a dark edge to it and all played by White musicians.
Urban Moving Systems start with triphop samples modernised into lofi, followed by early hardcore loops remoulded into darksynth by Revizia.
Breakbeats next for Kontravoid's electro offering, before AKMV-18's Daft Punk meets black metal piece.
Unitcode: Machine lighten up the vibes with new wave influences while Metacross bring techno flavours and flanging bass topped with a ride cymbal.
Neurotech eases us into the rock section with Dav Dralleon style staccato synths, plucked harp guitars and blast beats.
Revolution go back to the original formula with soaring vocals and chugging guitars, contrasting with the epic gothic melancholy of Lacrimosa who must have enjoyed Pink Floyd's 'Comfortably Numb'.
Helvort go full symphony and soprano on us alongside the death metal and Totenburg let rip with menacing vocals and no-frills NSBM.
Rozgi start tradfolk indie-style with female vocals and end with a post black metal workout leading us into the synth-heavy polished power metal of Mechina.
PA Scotland's Kinsfolk play us out with an acoustic tribute to wee krankie.
AKMV-18, Helvort, Neurotech – Self Released
Kinsfolk – Odyssey
Kontravoid – Kontravoid.com
Lacrimosa – Lacrimosa.com
Mechina – Mechinamusic.com
Metacross – Russian Dark Community
Revizia – Soundcloud
Totenburg – Hammerbund
Rozgi, Революция – Xzona.su
Unitcode: Machine – Unitcode.net
01: 24 Urban Moving Systems – Absolute - NEW
04:33 Revizia – Nightmare - NEW
08:07 Kontravoid - S.U.R.V.I.V.A.L. (Kontravoid Remix) - NEW
14:10 AKMV-18 – Melancholia - NEW
24:09 Unitcode: Machine - This Truth (Brighter Future Mix by Provision)
29:15 Metakross - Rage Module – NEW
34:35 Neurotech - The Draconic Symphony – NEW
44:45 Революция - Реальный Герой – NEW
49:29 Lacrimosa - Führ Mich Nochmal in den Sturm – NEW
55:35 Helvort - Ode Prima Faust – NEW
00:44 Totenburg - Post Mortem – NEW
07:48 Rozgi - Get Lost – NEW
11:38 Mechina - The Embers of Old Earth – NEW
17:39 Kinsfolk - Shes A Traitor – NEW
Presented by Sven Longshanks
Sven Longshanks: Audio Insurgency 184 – AAI 011322

Download



The Audio Insurgency will be back on Radio Albion Thursday at 3pm EDT/8pm BST.
See the daily radio schedule for more ethnocentric audio and video
Join the chatroom and follow the feed
We can also accept Etherium sent to this wallet:
0xDfD578999B6FBc1F9e31574a48096209166F7589
Radio Albion on Gab


Subscribe in a reader
Radio Albion Full Screen Player Low-Quality
Radio Albion Full Screen Player Hi-Quality
Radio Albion Android Player Low-Quality
Radio Albion Android Player Hi-Quality