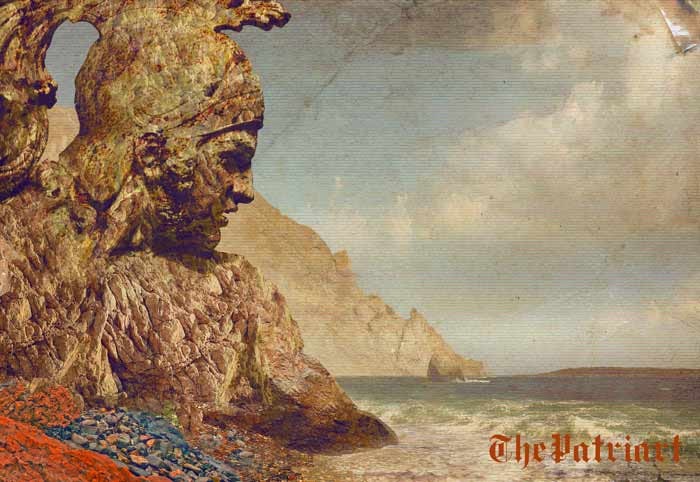 Use of music does not imply endorsement by the musicians of our views, or us of theirs
New music from the alternative genres that shows explicit and implicit European origins.
Nordein open with grandiose Nordic folk featuring traditional instruments and a shamanic pulse, leading into early nineties trance basslines and bleep bloops from Ancestryl.
Purification System blend industrial beats with guitars, while Eisfabrik add trance and futurepop with lyrics operating on multiple levels.
Circle of Dust get a cyberfunk retro mix by Inexdra with crisp guitar production, before Teknovore opens the throttle on a futuristic trance blaster with gnostic voiceover.
My Skin is Multicam stay with a light trance influence over the black metal riffs, pausing for Kinsfolk's rock ballad tribute to Kris Donald.
Mistreat pick up the pace with a lively punk number, while Whitelaw get into an AC/DC style blues groove.
Stolny Grad have an epic feel with operatic male Russian vocals and Nex Locus opt for more of a modern metal sound, with keyboards reminiscent of Vapor Heimis.
Winter mirror the strings at the beginning with black metal lead guitar and Kanonenfieber play syncopated melodic black metal with lots of aggression.
Thrash metal legends Kreator show they haven't lost any of their spirit with a short blast of extreme energy and AKMV-18 wraps the show up with a piano rendition of a black metal tune.
Nordein – Hammerstorm
Ancestryl – Soundcloud
Purification System – Russian Dark Community
Eisfabrik – Eisfabrikshop.de
Circle of Dust - FiXT
Teknovore – Infacted Recordings
My Skin is Multicam – Telegram
Kinsfolk – Patriotic Alternative/Odyssey
Mistreat – PC Records
Whitelaw – Midgard Records
Стольный ГрадЪ – Xzona.su
Nex Locus – Self Released
Kanonenfieber – Avantgarde Music
Kreator – Internet Release



01:07 Nordein - Klok Og Tagal
07:32 Ancestryl - UN ited against us - NEW
14:26 Purification System - What Do You Know - NEW
18:10 Eisfabrik - Wake Up! - NEW
23:30 Circle of Dust - Bed of Nails (Inexedra Remix) - NEW
30:35 Teknovore – Apotheosis – NEW
37:54 My Skin is Multicam – Centuria – NEW
42:24 Kinsfolk - We Wont Forget About Him – NEW
45:59 Mistreat - Talk The Talk, Walk The Walk – NEW
48:44 Whitelaw - Run Silent, Run Deep – NEW
52:17 Стольный ГрадЪ – Ойся – NEW
57:08 Nex Locus – Seer – NEW
02:57 Зима – Холодно – NEW
07:43 Kanonenfieber - The Yankee Division March (feat. Trevor Strnad) - NEW
13:50 Kreator - Hate Über Alles – NEW
18:48 AKMV-18 - Xasthur - Black Necrotic Paleness (AKMV-18 Piano-Cover) – NEW
Presented by Sven Longshanks
Sven Longshanks: Audio Insurgency 193 – AAI 033122




Download

The Audio Insurgency will be back on Radio Albion Thursday at 3pm EDT/8pm GMT.
See the daily radio schedule for more ethnocentric audio and video
Join the chatroom and follow the feed
We can also accept Etherium sent to this wallet:
0xDfD578999B6FBc1F9e31574a48096209166F7589
Radio Albion on Gab


Subscribe in a reader
Radio Albion Full Screen Player Low-Quality
Radio Albion Full Screen Player Hi-Quality
Radio Albion Android Player Low-Quality
Radio Albion Android Player Hi-Quality