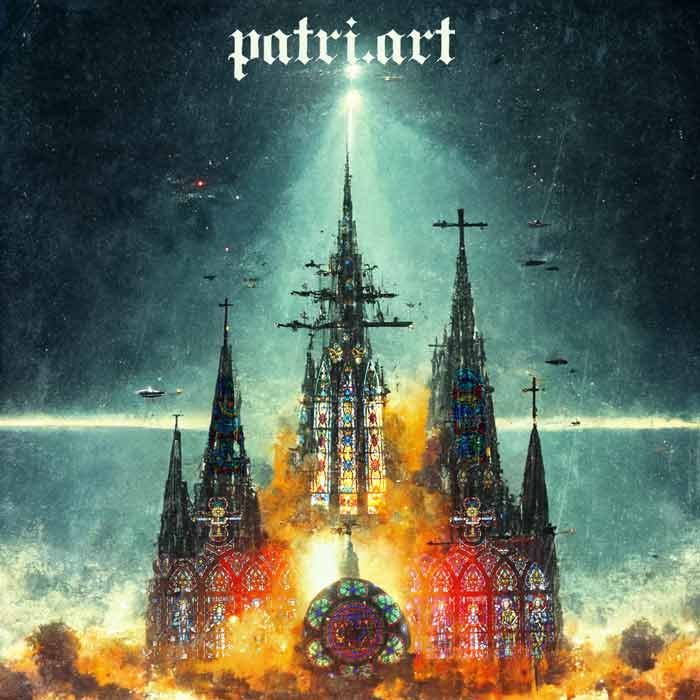 Use of music does not imply endorsement by the musicians of our views, or us of theirs
Nordic folk, dark electro, black metal, deathcore, nationalist, all sorts of genres and all by Europeans.
Eldrvak begins with a hypnotic nordic folk epic featuring strings and percussion, followed by slow paced robotic industrial from Dirt Factory.
Mystic adds right wing voice samples and Nationalist rap, while Ironmensch brings acid influences and a tempo change.
Velax stays in the early nineties with an anti-lockdown electro track, before Celina brings us up to date with a cyperpunk future.
Incore sample pinhead with a darksynth tribute thats a bit light on the bass and Atruta ease us into the rock section with some groovy melodic black metal.
Bronson play Blink 182 style melodic punk and Italian kinsmen Silent Scream's singer sounds like a cross between Ozzy and Geddy Lee warbling over a NWOBHM backing.
Erocis try to cram as many different sections as they can into their folk metal number, while Midnight Bathe play atmospheric black metal with subtle keyboards.
Nexus Dei put the drummer through his paces with symphonic death metal followed by Disembodied Tyrant's ear-blistering extreme symphonic deathcore.
WitcheR finish with a melancholy classic with black metal guitar and classical piano.
Eldrvak, Celina, Silent Scream, Erocis – Self Released
Dirt Factory – Viral Australia
Mystic – Telegram
IronMensch – 86Dresden
Red Industrie/Velax – Miseria Records
Incore – Neon Media Team
Atruta - Cavum Atrum Rex
Bronson - Rupe Tarpea Produzioni
Midnight Bathe – Moonlord Records
Nexus Dei, Disembodied Tyrant – Spotify
WitcheR – Wicherband.hu‎
01:15 Eldrvak – And The Sky Turned Black
11:45 Dirt Factory - Beware of the Machines
17:30 Mystic - Reichstag
20:42 IronMensch - Get What You Deserve
26:54 Red Industrie – They Dominate by Law (Velax Mix)
33:29 Celina - Human Nature
37:03 Incore – Hellraiser
42:37 Atruta - Punsovaja Błudnica, Supiernik I Źmiej
47:49 Bronson – AMOR
51:32 Silent Scream - Fairy Tales
58:16 Erocis - The Aerial Guardian
03:36 Midnight Bathe - Golden Shadows Of Lost Light
08:52 Nexus Dei - Battle of Creation
15:03 Disembodied Tyrant - The Divine Stigmata
22:28 WitcheR - Moonlight Sonata Op. 27. No. 2. I. Adagio Sostenuto (Ludwig Van Beethoven Cover)

Presented by Sven Longshanks
Sven Longshanks: Audio Insurgency 218 – AAI 102022

Download



The Audio Insurgency will be back on Radio Albion Thursday at 3pm EDT/8pm BST.
See the daily radio schedule for more ethnocentric audio and video
Join the chatroom and follow the feed
We can also accept Etherium sent to this wallet:
0xDfD578999B6FBc1F9e31574a48096209166F7589
Radio Albion on Gab


Subscribe in a reader
Radio Albion Full Screen Player Low-Quality
Radio Albion Full Screen Player Hi-Quality
Radio Albion Android Player Low-Quality
Radio Albion Android Player Hi-Quality