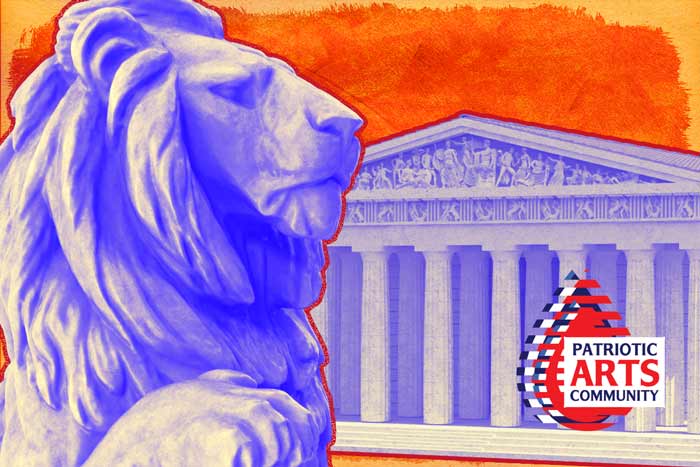 Use of music does not imply endorsement by the musicians of our views, or us of theirs
Tons of Nationalist artists on the show tonight making dance music and alt-rock, plus a mental Slavic section in the second half.
Teknein begins with church organ and Orb style jaunty bass, followed by Andrei Moissejev with a rain soaked futuristic city piece.
Tapestri stays with the experimental electronic styles adding subtle vocals and Thyme and Place takes the essence of a sunny spring day and turns it into musical goodness.
Mystic raps over Jonathan Bowden samples and Allogenes gets into a body popping cyberfunk groove guaranteed to get your head nodding.
Faces off Fear use chainsaw metal guitar noise and pumping bass, warming up for Transponder's stomping EBM acid beats and war movie samples.
Even Keel starts the rock section with a camp fire ballad, before Bleunwenn adds psychedelic flavours and multiple harmonies.
Atlantean Blood stay with the sixties influence and Hiraeth explores a more confident role with bass and percussion added to her usual acoustic guitar.
Brad gets back into the trad metal sound with Saxon style vocals and Prophetic play well structured atmospheric pagan metal with bass and lead guitar mirroring one another.
A Thousand Miles sound like Alkonost before they went soft in their old age and Izmoroz hit the blast beats before adding glockenspiel and a folk inspired chorus.
Pneumoslon start with a trad folk lullaby and erupt into black metal with sax harmonies and The Ember, The Ash go from one extreme to another symphonic deathcore style.
Beyond the Northwind finishes up with 12 string acoustic blues and a Jim Morrison influence.
Teknein – Teknein2 (Telegram)
Andrei Moissejev – Ohymnn (Telegram)
Tapestri – BlackBirdsMusic (Telegram)
Thyme & Place – TimeAndPlaceTelegram (Telegram)
Mystic – MysticMusicArchive1 (Telegram)
Allogenes – Allogenes (Telegram)
Faces off Fear – RUMF Productions
Transponder – Transponder-Music.com
Even Keel – EvenKeel14 (Telegram)
Bleunwenn – BleunwennMusic (Telegram)
Atlantean Blood – AstralAvalon (Telegram)
Hiraeth – HiraethMusic (Telegram)
Brad – Silurian Productions
Вещий, Тысяча Вёрст, Изморозь, Пневмослон – Xzona.su
The Ember, The Ash – Self Released
Beyond the Northwind – Soundcloud
01:17 Teknein – Stande Neun
06:44 Andrei Moissejev – Cyberpunk Deus ex Ambience
09:38 Tapestri - Dreaming Drones
15:19 Thyme & Place - Upbeat
20:35 Mystic – Sorcerist
23:00 Allogenes - Problemes D'Amour
27:21 Faces off Fear – Minus
31:43 Transponder - Kampf, Sieg oder Tod
36:58 Even Keel - No Ones Coming To Save You
41:22 Bleunwenn – Too Wild for You
45:10 Atlantean Blood – Little White Angel
48:22 Hiraeth - The Calling
52:03 Brad – Brainwashed
56:03 Вещий – Голубушка
02:40 Тысяча Вёрст - Тысяча Вёрст
07:19 Изморозь - Свежесть старых могил
12:18 Пневмослон – Бабушка
14:53 The Ember, The Ash – Abnegate
21:12 Beyond the Northwind – Hel
Presented by Sven Longshanks
Sven Longshanks: Audio Insurgency 240 – AAI 040623
Download



The Audio Insurgency will be back on Radio Albion Thursday at 3pm EDT/8pm BST.
See the Radio Albion Telegram page for links to the Nationalist music used each week
See the daily radio schedule for more ethnocentric audio and video
Join the chatroom and follow the feed
We can also accept Etherium sent to this wallet:
0xDfD578999B6FBc1F9e31574a48096209166F7589
Radio Albion on Gab


Subscribe in a reader
Radio Albion Full Screen Player Low-Quality
Radio Albion Full Screen Player Hi-Quality
Radio Albion Android Player Low-Quality
Radio Albion Android Player Hi-Quality