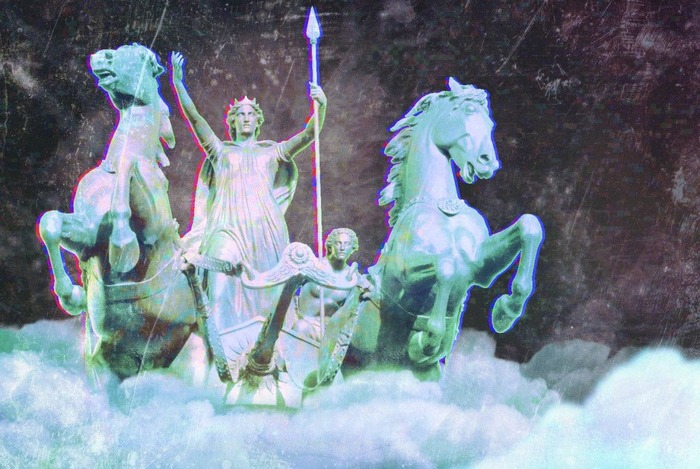 Use of music does not imply endorsement by the musicians of our views, or us of theirs.
An episode bursting with guitars this week, ranging from electronica to black metal and even some neo-classical at the beginning, as we celebrate the amazing music that White men are capable of creating.
Halindir opens with the beat of a Shaman's drum accompanying a brass section with plucked strings, building into a 'Twenty One' riff with too many new colours added to call it a remix.
Subtle piano and classical guitar from Awaiting Dawn keep us with the laid back vibes until a Twin Peaks style theme and tribal drumming heralds the entrance of Dirty Synth Story.
The Institute 91' stay with the summer feeling and the mellow keyboards, before adding soaring guitar soloes and a funky bassline sounding almost like Stormking in places.
Holon hits double time before breaking out into a retro electro number guaranteed to get your foot tapping, while Lyde finish the electronica section with a majestic slow building Swedish disco stomper.
Italian band Topi Neri show their ska influences and ear for a good melody, before the raw energy rock 'n roll of stalwarts Brutal Attack get us warmed up for a melodic hardcore workout from Heritage.
Asenblut power through five minutes of the heaviest riffs on earth landing every chord change on target, before Vinterhjerte add a progressive rock influence and syncopated rhythms to the Viking theme.
Aeterna begin with exotic guitar, flute and lush female vocals, soon to be joined by pipes and grunge guitars with unexpected riffs flying everywhere.
Astral choirs back the hell-for-leather drums and guitars of Aara before the Celtic influences come in, preparing a way for the strings, earthly choirs and triumphal melodies of Ruadh, in the final tune of the night.
Halindir, Aeterna, Aara & Ruadh are at Bandcamp
Awaiting Dawn, Dirty Synth Story,
The Institute 91', Lyde &
Holon are at Soundcloud
Topi Neri are at Tuono Records
Brutal Attack are at SFH Records
Heritage are at OPOS Records
Asenblut are at AFM Records
Vinterhjerte are at DK Records
00:35 Halindir - Be Resolved, Warrior Ethos - NEW




08:40 Awaiting Dawn – Strangers - NEW




12:44 Dirty Synth Story - Short Ascent - NEW




16:07 The Institute 91' - Dreadwyrm (Vosto & The Institute 91') - NEW




22:03 Holon - Same Old Tactics - NEW




27:01 Lyde – Gradual Shift - NEW




33:14 Topi Neri - Mai Soli - NEW




38:20 Brutal Attack - Europe Is Burning - NEW




41:12 Heritage - Legado - NEW




45:42 Asenblut – Irminsul - NEW




50:49 Vinterhjerte – Chains - NEW




55:57 Aeterna – Перекрёсток - NEW




02:10 Aara – Telos - NEW




10:28 Ruadh - Only distant echoes reign (Part 2) – NEW
Presented by Sven Longshanks
Sven Longshanks: Audio Insurgency 107 – AAI 060420
Download
The Audio Insurgency will be back on Radio Albion next Thursday at 2.30pm EDT/ 7.30pm GMT.
See the daily radio schedule for more pro-White audio available for download
Join the chatroom and follow the feed
Artwork by PatriArt
We can accept donations sent to this Bitcoin wallet number:
1L8orB31d6Bu1fymUgcWN3ByoedL6bNaM2
Radio Albion on Gab
Subscribe in a reader
Radio Albion Full Screen Player Low-Quality
Radio Albion Full Screen Player Hi-Quality
Radio Albion Android Player Low-Quality
Radio Albion Android Player Hi-Quality