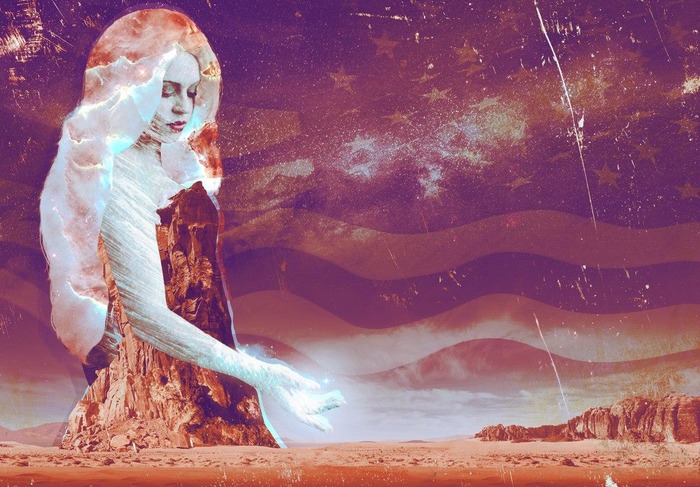 Use of music does not imply endorsement by the musicians of our views, or us of theirs.
New genres and new music, pro-White and passive White, the Audio Insurgency is a selection of the best music from around the world produced by Nationalists or just listened to by Nationalists.
Document Lambda begins with ambient organs and lo-fi beats accompanying the first verse of the gospel of John, perfect for lazy summer evenings watching the sun go down.
Powercyan's darksynth intro segues into a very well put together remix from TourDeForce, gradually building and seamlessly moving from wistful guitar soloes to majestic euro-pop in under 5 minutes.
Indie guitars, female harmonies and loops courtesy of Amalec follow, before the familiar voice of Darkest Sky returns with a more industrial edge to his usual neo-folk.
Sylac picks up with a similar rhythm before discarding it for ultra-low tuba sounds and an understated disco bassline, while HeartBeatHero plays with the flange effects before adding retro melodies with a modern twist.
Celeritas Tenebris gets onboard the darksynth train, adding plenty of metal influences to get us ready for a genre busting blackgaze masterpiece from Russian artist A Light in the Dark.
Ambient black metal next with a xylophone alongside clear vocals and synths that wouldn't be out of place on a Twenty One track.
Heiliger Krieg start with a jaunty Celtic solo before heading for Iron Maiden territory and Romantikus Eroszak make great use of the female voice harmonising with lead guitar on their folk rock track.
Natural Spirit get the bagpipes out for some mid-paced folk metal with rutvica style vocals and Artgerecht go for melodic metal with operatic style Germanic singing.
Sojourner make final use of the fuzz box for the night with super tight riffing on twin leads alongside piano and tin whistle, leaving it to Myrkur to finish the show by bringing tears to your eyes with her beautiful ode to Svea.
TourDeForce, A Light in the Dark, Dreams of Nature & Sojourner are at Bandcamp
Amalec, Hiraeth, Alma Lahar, Darkest Sky,
Document Lambda, Powercyan,
Sylac,
Celeritas Tenebris
and HeartBeatHero are at Soundcloud
Heiliger Krieg are at Deutsches Soldatentum
Romantikus Eroszak are at Hadak Útja Kiadó
Natural Spirit are at Youtube
Artgerecht are at Glaube-Wille-Tat Produktionen
Myrkur is at Myrkurmusic
Amalec can also be found at DVNF Records
00:26 Document Lambda - Shield Your Eyes, the Sun is Rising - NEW




08:35 Powercyan – Anarchy - NEW




09:55 TourDeForce Remix - Atropine - Stalemate




14:44 Amalec, Hiraeth and Alma Lahar – Against Time - NEW




20:24 Darkest Sky - Youth Without Youth - NEW




24:05 Sylac - Exit Strategy - NEW




29:26 HeartBeatHero – Ghost - NEW




32:25 Celeritas Tenebris – Tensegrity - NEW




37:05 A Light in the Dark – Vortex - NEW




42:19 Dreams of Nature - Northern Lights




50:16 Heiliger Krieg - D.D.S - NEW




54:39 Romantikus Eroszak – Volt Országom, Mikor Volt - NEW




57:24 Natural Spirit - Гори, палай! - NEW




01:58 Artgerecht - Ein Leben




06:06 Sojourner - The Deluge - NEW




14:39 Myrkur – Svea
Presented by Sven Longshanks
Sven Longshanks: Audio Insurgency 109 – AAI 061820
Download
The Audio Insurgency will be back on Radio Albion next Thursday at 2.30pm EDT/ 7.30pm GMT.
See the daily radio schedule for more pro-White audio available for download
Join the chatroom and follow the feed
Artwork by PatriArt
We can accept donations sent to this Bitcoin wallet number:
1L8orB31d6Bu1fymUgcWN3ByoedL6bNaM2
Radio Albion on Gab
Subscribe in a reader
Radio Albion Full Screen Player Low-Quality
Radio Albion Full Screen Player Hi-Quality
Radio Albion Android Player Low-Quality
Radio Albion Android Player Hi-Quality